Produced by Katecia Taylor.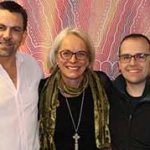 It took 18 months of negotiations to get Nicole Conner to agree to be interviewed back in 2015. Two and a half years later, the former evangelical mega-church pastor finally breaks her silence regarding the fall-out, controversy and heartache that followed her appearance on this program.
Back then Conner revealed her personal values did not align with the homophobia, biphobia, transphobia and ex-gay practices that she witnessed throughout evangelical churches.  It sent shockwaves throughout Australia's evangelical community that reverberated globally. What followed was a flood of conservative Christian commentators ridiculing Conner and condemning her views.
Amidst the unholy diatribe were numerous articles  published by the now-defunct extreme-right-fundamentalist group, The Saltshakers, which quoted scripture, suggesting Nicole should "submit to her husband", Pastor Mark Conner, the former Senior Minister of Citylife Church in Melbourne.
Undeterred by her critics, it's a more resilient Conner who now draws strength from the hundreds of individuals she has touched through speaking out.
The 2015 interview has been downloaded over 10,000 times by listeners around the globe and while Conner admits it's impact is difficult to quantify, she has been overwhelmed by the correspondence and love that she continues to receive from individuals struggling to reconcile their sexuality and faith.
"I now know that lives have been saved because of that interview," she said.
Joining the conversation is ex-gay survivor and co-executive producer of the Inside Ex-gay series, Nathan Despott.  Since starting this GLOBE-Award nominated project, Despott has gone on to became the policy leader for the Australian Equality Party, founded the Brave Network – a group for ex-gay survivors and LGBTIQ people of faith, and continues to advocate strongly for life-saving research, regulation and legislation to eradicate ex-gay ideology and promote inclusiveness for all.
Crisis Lines:
LifeLine                13 11 14
QLife                     1800 184 527
beyondblue          1300 22 4636
Podcast: Play in new window | Download (Duration: 55:50 — 51.1MB)