Churches throughout the country profess to be "welcoming" of LGBTIQ people – but most are not affirming. What seems like a happy medium to many conservative evangelicals is actually one of the most harmful positions for LGBTIQ people of faith.
Some of the strongest international voices speaking out against LGBTIQ inclusion are currently, or will shortly, be touring Australia to deliver their "so-called-truth" in advance of Australia's plebiscite on marriage equality.  To challenge these imports, the Brave Network, Australian Equality Party and Collins St Baptist Church recently sponsored a special visitor to offer a counter-point, the irrepressible Kathy Baldock, whose interview with Dean Beck is the 6th Inside Ex-gay radio feature.
PODCAST – SATURDAY 10 SEPTEMBER, 2016, 12PM, JOY 94.9 MELBOURNE
* PLEASE NOTE THIS INTERVIEW CONTAINS CONTENT THAT SOME LISTENERS MAY FIND DISTURBING. IT INCLUDES EXTREME HOMOPHOBIC COMMENTARY FROM RELIGIOUS LEADERS.
From the grand canyon that divides middle America's bible belt on issues of faith and sexuality, a straight, middle-class, middle-aged, conservative evangelical divorcee Kathy Baldock has emerged with a powerful story of advocacy and social change.  Kathy's expertise in the psychological, historical, and theological aspects of the church's engagement with LGBTIQ people delivers a compelling argument for inclusion and acceptance of all.  Her courageous voice has empowered Churches and their congregations to embrace acceptance and understanding of LGBTIQ people, transforming the lives of those struggling to reconcile their sexuality and faith.  Her work saves lives.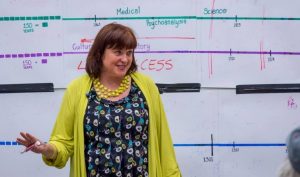 Today, Kathy Baldock is one of the United States' foremost advocates for LGBTIQ people of faith. She heads her own organisation – Canyonwalker Connections – and is a board member of The Reformation Project, one of the world's largest networks for LGBTIQ Christians. Her work provides vital context for any person wishing to successfully engage faith and sexuality in public conversation.
Click to learn more about Kathy's book, Walking the Bridgeless Canyon.
Inside Ex-gay has been active in progressing the cause of ex-gay survivors in the Melbourne press over the past 12 months. Check out the following articles to learn more:
Call to investigate 'ex-gay' movement by Farrah Tomazin, The Age, 17 January 2016.
Gay, Celibate and Christian: US evangelical in Melbourne for same-sex talks by Farrah Tomazin, The Age, 6 Aug 2016.